Fundamentals of digital marketing : Top practices you must follow in 2022
If you are here, then we know you at least know the impact of digital marketing for any business in any industry.
The challenge here, in fact, isn't the knowledge. Rather, it's transforming the fundamentals of digital marketing into practical, business-changing strategies that open new horizons and opportunities for your brand to thrive in.
In the last few years, at least 12 different activities of digital marketing emerged into the scene. If you ever want your brand to exist -and we bet you do- as a trustworthy, pioneer model, then these practices are absolutely crucial for you to know and put in practice.
In this guide, we discuss the latest trendy digital marketing practices you might want to consider for your brand in 2021, and beyond.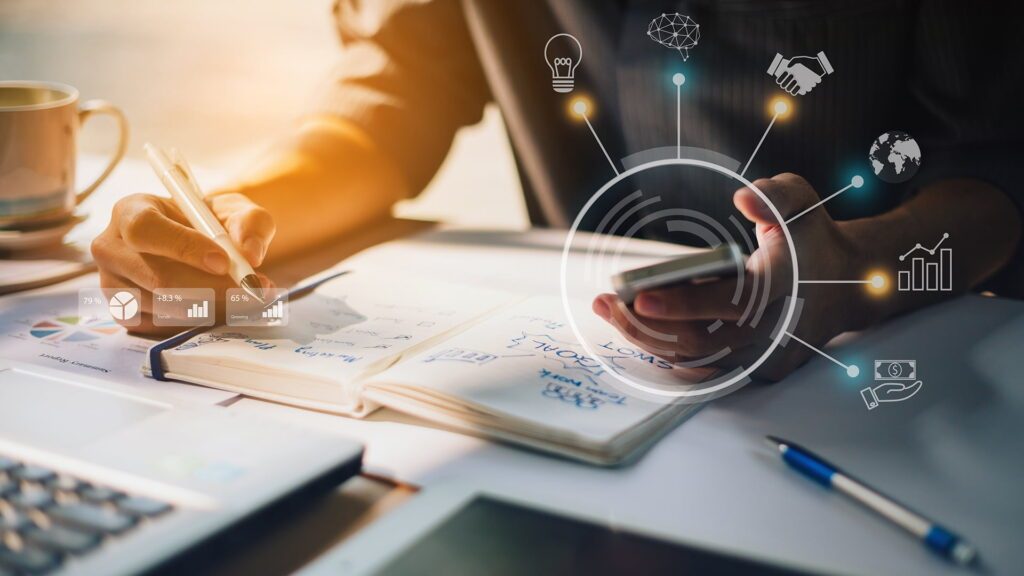 Search engine optimization
We mentioned it at the top of our list; because it definitely deserves to be there.
More than 60% of B2B companies admitted that SEO helped them generate more quality revenues and leads than any other marketing effort.
From customers ' side, 80% of purchases started initially on search engines, even if they ended up buying from a physical store.
It might be interesting for you to know that users who have a serious purchase intent, when they use search engines to search, they tend to make their purchase 15% more than they do when any other marketing effort is pushed on them.
Search engine optimization, or what's also called SEO, is one of the key basics of digital marketing. and is a vital of any digital marketing strategy and simply can't be ignored.
Although google's algorithms tend to be confusing and rapidly changing sometimes, yet you can, with some basic reading, have a good grasp of how things work there.
There are trendy SEO 4's you can't, and should not, ignore in 2021:
1. Stick to Google's core web vitals
In 2020, Google announced Core Web Vitals, the three criterias that are responsible to measure the quality of any website's user experience.
These standards are: loading speed, interactivity, and visual stability.
In order for your website to appear in the first page of Google results, you have to fulfil those three's.
The more you stick to them, the higher you rank on google.
2. Understanding Google's BERT for Search Intent
BERT is an abbreviation for Bidirectional Encoder Representations from Transformers.
The algorithms of this model combine machine learning techniques and natural language processing to better understand what users are actually looking for.
It now supports more than 70 languages around the world.
Thanks to this BERT, Google's search engines are now more conversational, which means that they can interpret what the user is trying to say, and what exactly might be their intent.
The Takeaway?
In 2021, you are not only required to create some excellent content and keep up with Google's user experience criterias, you also have to dig deeper to understand and study your target users and their search intents.
3. What about Keywords?
Try to believe this: almost 50% of google searches end up with zero clicks. That means that around 175 BILLIONS searches a month go for nothing.
The reason to this is -you guessed it- the rich content search engines are providing for their users, especially Google Business Listings that own a wide variety of menus, contact information, snippets, and much more that give users all the information and answers they look for, even before they finish their search sentence.
Your job here is to come up with highly targeting keywords that give right answers while simultaneously aligning with your users' intents.
4. Original, and nothing but original
They say content is the king, but you can view it as a king that does and controls everything in the battlefield on his own.
2021 is no exception; google doesn't -as usual- tolerate copied, quoted, or rehearsed content.
So if you are trying to be anywhere in the first result pages, a relevant, original content should be your next focus.
Add to your calendar some innovative ideas, such as case studies, customer experiences, infographics, industry-centric blogs, and whatever can serve your reputation in your market, and your ranking on search engines.
The return won't only be a higher ranking on search engines, but you will become a trustworthy brand in the eyes of your audience.
Google will know that, and they will reward you!
Search Engines Marketing
Note that it's not the same as SEO – Search Engines Optimization.
Originally, they both used to indicate the same thing, until they were split, and each meant something different than the other:
SEO refers to organic reach.
SEM refers to paid reach.
However, both can share the same goals– boosting visits, revenues, and conversions rate on websites.
As you can expect, Search Engine Marketing is one of the leading basics of digital marketing, especially in the last decade.
It's also considered as one of the most impactful and popular paid advertisements, yet it can be seen as the most expensive and complex one.
The good news is that fellows at google are constantly working to simplify and optimize ad campaigns for brands to ease things up.
You would want to apply these latest SEM practices if you are serious about getting some real results of your PPC campaign.
1. Remarketing
It's no secret that there are a ton of competitors out there; this is why the purchase decision isn't as easy and instant for the users as it used to be.
Especially after a plentiful number of businesses moved their activities online in 2020.
There's a statistic that says that only 2% of prospect visitors actually purchase what they were searching for in the first visit on a selling website.
Does it mean your money went for nothing?
Definitely not, this is why SEM experts advise you to do what's called a Remarketing or Retargeting.
Remarketing means that you can reuse ads that'd already appeared for a certain audience, and retarget them again; in order to remind, or simply encourage them to make their purchase.
Luckily, google helps you remarket your ads via Remarketing Lists; so that you can display ads for users according to their needs and the landing page that brought them to your website.
2. Identify ill-performing keywords
There's no more valuable favor you can do to your website and your entire web presence than filtering the keywords it targets.
Keywords alone can prosper your business, or bury it alive.
When we say ill-performing keywords, we mean those keywords that do not attract traffic or return back any clicks or revenues. They also usually have a low search volume. Or maybe the keywords that are either very generalized or very restrictive, and don't bring enough clicks or impressions.
If you wish to know the reasons your keywords are not working properly, we advise you to make a list with the highly performing keywords that are relevant to your niche, and test them in micro ad campaigns before you launch your final big one.
It should give you a better understanding of what works and why, and what does not and why. In addition to the previous, you can expand and monitor your Negative Keywords List.
Negative Keywords are those keywords that you DO NOT want your ad to display for; as the users are not from your prospect leads, and they charge you unnecessarily.
3. Retarget your campaign geographically
It doesn't matter how many clicks and impressions your ad gets, what really matters -and you can agree- the revenue you actually generated from it.
That was the goal of SEM in the past, and now in 2021, and probably will be eternally.
Of what we do while optimizing SEM campaigns for our clients, we start off with a profound search and analysis of their target segment, next, we identify the geographic locations they exist in, and then the highly-performing locations in terms of revenues using Geographic reporting and targeting features.
What we do next is that we retarget these ads to display in areas and locations that our clients' services and products are relevant and requested.
Content Marketing
Okay, let's lay this straight: You won't succeed in ANY Digital Marketing effort unless you know how to fully execute and improve your content marketing effort.
WHY?
Because content marketing, one of the core basics of digital marketing, is your brand's communicative voice and style.
The criteria in 2021 is to create content that's unique, meaningful, and most importantly, provides real solutions for real struggles your audience might face.
Only then you will be qualified enough to earn their time and attention, and hopefully, trust.
These old approaches of stuffing keywords on your website or social media and hoping they will turn into money are no longer working, and neither google or the audience appreciate.
The following practices may help you elevate your content marketing in 2021:
1. Repurpose your old content
It can be one of the biggest content marketing trends in 2021.
Because you don't need to start from scratch to have good content to publish.
Rather, you can make use of the already existing content for more reach and exposure across the channels.
Repurposing content simply means altering the original form of a certain piece of content into another new form.
For example: the content of a video can be altered and made into a blog, A blog also can be turned into an infographics, etc.
In our work, we usually repurpose our clients' content to drive the highest value using every resource and piece of information they have to reach and influence their audience, without a single waste.
2. Do more videos
It might not surprise you to know that the average internet user in 2021 spends around 100 minutes daily watching videos online.
It also goes without saying that videos only get 13% more engagement than any other content type on facebook alone; which made 99% of video marketers admit to continuing to do more video marketing in 2021.
We didn't even speak about instagram and tiktok!
All these stats tell you that your next marketing budget should be directed towards creating videos, whether promotional videos or engaging ones.
Note that the competition, as you can probably guess, is not going to be effortless.
You will have to create high quality, fully optimized, and engaging videos if you want to be noticed across the noise.
3. Try User Generated Content – UGC
If you haven't ever heard of Starbucks' Red Cup Content, we absolutely encourage you to do a quick search.
But the least we can say is that it's rated as one of the most successful UGC around the world.
The User Generated Content is one of the most impactful content marketing resources for any brand:
– Firstly, because of the great credibility it has, since it's created by real customers, and can convert up to 161 times more than any other type of content.
Two thirds of customers make a purchase after seeing other customers' reviews and experiences.
– secondly, it's insanely shareable, and can generate clicks and impressions rates 4 times even more than contests.
– and lastly and more importantly, other customers like to see and share them, they may even feel encouraged to do some of their own.
Everything your audience creates from reviews to photos and text posts are all invaluable resources for your brand content.
Start encouraging your audience this year to create their own content, and watch the results!
Responsive Web Design
One second of delay in a website loading can decrease conversion rates down to 7%.
Thus, if we are to give any advice this year, it will be this one, and only this one!
Optimize your website for mobile phone
There are at least 4 billion internet users accessing from mobile phone everyday now. You might even be reading this article from your phone; which makes no surprise that the quality standard of any website is how well it can perform on mobile phones.
Optimizing a website to be easily navigated on a mobile phone called an Interactive Design; which means that website is suitable for all the mobile devices, screen sizes, and even smart watches.
To optimize your website for mobile phones, you'll need technical assistance from a professional web designer/developer, in addition to an SEO expert to help optimize your site for AMP – Accelerated Mobile Pages, which is an open source framework that enables a seamless and fast website navigation on mobile phones.
As we said earlier in SEO best practices, google gives a priority to websites that fulfil its Web Core Vitals.
Interactivity is one of them, obviously.
Email Marketing
Lots of companies today (still) send their emails arbitrarily to their customers' inboxes hoping they will come back loaded with sales.
Hope is of course good.
However, For you to make the best use of your E-mail marketing and generate those big sales and conversions, don't be like others, and obviously, don't rely on hope alone.
You need a solid strategy on which you build your entire email marketing activity if you don't want to end up unseen in crowded mailboxes.
See, If you are already spending a lot on other digital marketing stuff, here's some good news: email marketing is evidently the cheapest one of them, and it even can be sometimes free.
Then how to email marketing?
First of all, you should know that today's customer is more bored and impatient than ever; so you have to be ready and flexible all the time.
Second, follow these trendy practices:
1. Email Automation
Email Automation is your best-friend shortcut to send the right message to the right audience in the right timing, without having to do it all yourself every time.
One example is the welcoming and thank-you messages you send to your customer after he signed up on your website or after making a purchase.
The statistics say that the welcoming messages alone can generate up to 320% of revenue more than any other email message, 5 times higher than the promotional emails even.
Despite how significant the role of Email automation is, you just don't install it and forget about it. This type of technology requires constant monitoring and testing to ensure it is actually elevating your email performance as planned.
2. Segment your mail list
Some statistics -a lot of statistics today, right?- say that segmenting email lists can increase revenues up to 760%.
Segmenting email lists is the practice of dividing customers into smaller, customized lists based on certain factors, such as interests, geographic locations, purchase history, and more.
The result? you will be able to target the right audience with the right, personalized content for them, whether it's an update, offers, etc.
From there, move to the next strategy.
3. Email Personalization
Here, you take customization to the next level.
Customers tend to interact more when they receive something personal and tailored for them.
After you identify which geographic group the customer belongs to or purchase history they have, it's essential to address customers with their names and the data you collected about them in the mail subject and body.
This type of personalization grabs the customers' attention and makes them feel appreciated, not just a number.
The results driven by these practices usually have higher click, opening, and engagement rate.
Social Media Marketing
With almost 3 billions users, and average 2 hours of using everyday, there's no wonder that social media is one the significant basics of digital marketing in the new era, so much that some even confuse them as a one thing.
There is no alternative for having a powerful, tangible presence on social media; not only to break through the competition, but also for your target audience to know and engage with you closely.
Therefore, you have to stay updated with all the latest trends and techniques in social media.
WHY?
Because almost half of the world's population are there, and your customers are probably some of them.
so don't want them to see you at least one time where they spend most of their time?
Here's what marketing experts tell you to do for a groundbreaking social media marketing in 2021:
1. Marketing Automation
Because social media, needless to say, a bottomless ocean today, you need to make sure you do more with less, especially in terms of time and budget.
Otherwise, you will end up drowning in details and neglecting other important sides.
Here's Forbes advice for you, and other ambitious brands: Use more Marketing Automation tools, and less of traditional practices.
Marketing automation tools, like Hootsuite and Hubspot, enable you to schedule, post, edit, interact, and analyze everything, all from one platform.
With that, you will have more time and energy to focus on other duties.
2. Engagement with customers
They say that social media is where big companies play small again.
This is because the audiences are always the same: they like to be heard and appreciated.
Starting from creating and managing communities on social media to contests and giveaways, all you need to do is to just stay present and active, introducing yourself to your audience as a side of the conversation, instead of treating them as credit cards.
Remember that algorithms are capable of recognizing where and how the conversations are carried, and they drive reach towards them.
That goes without saying: Make sure you are engaging with your customers at every touch point.
3. Avoid hard-core selling
Of course it's important to promote what you have.
But remember that users on social media are there -mostly- for fun, getting updated, and following what they like.
You don't want to interrupt this fun and private time with a chain of pushy sales offers.
In 2021, Your goal should be to raise your valued audience's awareness about you, and reach to as much as you can of them.
Your alternative of pushy sales is to give them a reason why they should trust you, through an engaging, relevant content, so that it won't sound pushy or unnatural to throw a sales ad here or there.
Finally, remember that 80% of business owners have at least one activity of digital marketing online, from social media marketing down to video marketing.
It's necessary for you to be one of them, not only to have a digital marketing strategy, rather an effective, up-to-date one that drives you and your customers to the highest values.