Web Solutions
"Inventing the world your brand deserves to run in."
Web solutions
having a website is a part of running a business. In a rapidly moving and growing world of the internet, every business should reserve itself a share of the web.
If you are a long-established company or a thriving startup, having a website is a no-negotiation matter to let your audience learn about, engage with, and purchase from you.
Web development
What is website development?
Website development, also called web development, is the technical work associated with building and maintaining a website or web application. It covers everything from creating a basic web page with generic text to developing the most complex massive web application.
The web developing process is all about making a website look, work, and perform great with a reliable and smooth user experience. It's also related to layout or web design, which refers to the surface-level visual elements of the website, and database management.
What's web design?
Web design is a step in developing an appealing and effective website. The purpose of web design is to create particular feels and looks for users during their experience with a website.
The web design process includes numerous elements, from graphics, fonts, colors, and imagery.

How can we help?
Focused on scalability and functionality, we are specialized in creating multi-level full-cycle web solutions for established businesses and growing startups with seamless and intuitive user experiences and pixel-perfect layout designs, covering everything from custom web applications, to e-commerce, CRM applications to web portals.
Managed Hosting
What's managed hosting?
Managed hosting refers to the hosting plans managed by hosting company is when a service provider leases and handles the setup, day-to-day management, and support of servers, whether dedicated or shared, and other hardwares on behalf of their customers. These hardwares include storage, network hardware, and operation hardwares. They also offer backups, load balancing, security services, and application support.
Whether you are a growing business with high traffic or/and limited IT experience, or you are an established business with complex and scalability needs, managed hosting is critical to ensure a reliable, hassle-free experience for your users, along with spam protection and remediation of any problem that might affect the server's overall performance.
Managed hosting providers offer a wide package of bundles, from basic to advanced all-inclusive services. However, in both cases, services can be customized to match each customer's needs.
These plans are often backed with a service-level agreement that highlights the services the client is signing up and paying for, and how the company will compensate them in case anything went down.
How can we help?
We take away the hassle of setting up, securing, and the management of your web and app servers, Rosella web design agency Qatar offer a high-powered managed hosting, covering all the features, from real-time monitor, Built-in web security, and spam protection to backup & disaster recovery and around-the-clock support, ensuring a flawless and smooth website management experience.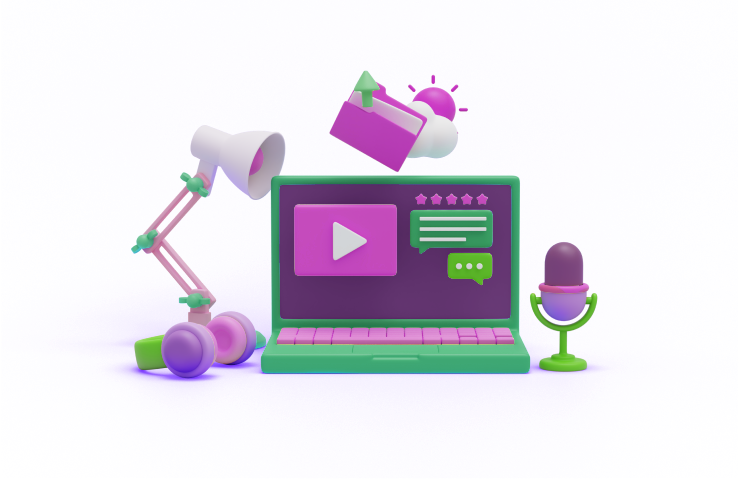 Maintenance
What's web maintenance? Why does it matter to your website?
Website maintenance is the technical practices required to ensure your website is running and performing optimally and issue-free. It's the task of monitoring, scanning for issues, correcting, and updating the website; in the purpose of maintaining its full-capacity functionality and performance and engaging users.
Website maintenance heavily influences the first impression of your website and business as a whole. Due to the grinding competition of today's marketplace, it's necessary to keep every potential user positively impacted and hinged by their experience in your website.
Users today are more conscious and educated about the value they are giving their money in exchange for. They do their homework of searching and comparing before committing or giving away their trust or, most importantly, money. If you fail to excite them in their first visit to your website, it's unlikely for them to give you another chance.
Web maintenance makes sure people seamlessly land on and navigate your site, and benefit from your offerings.
Web maintenance includes time-sensitive tasks, from annually and quarterly to monthly and weekly.
These actions include:
Ignoring your regular website maintenance can cause it to stop working altogether, or at best, have uncountable glitches, laggy loading and navigation, and an overall frustrating experience for your users, who won't likely repeat it.
How can we help?
A website is like the company's store, every detail matters, and nothing can be overlooked. We provide regular web maintenance and support customized to your website, from correcting broken codes and full site optimization to consultation and backups, ensuring a secure, glitch-free user experience for your users that directs them towards making a positive decision and engages them at every click.
Web Optimization
What's web optimization? Why is it critical to your website?
Website optimization encompasses the usage of controlled experimentation and technical tools in order to enhance a website performance and ability to deliver business's pre-defined objectives. The main purpose of web optimization is helping websites function effectively and soundly, eliminating errors and technical issues in both front and back ends.
Web optimization actions include:
Ignoring your regular website maintenance can cause it to stop working altogether, or at best, have uncountable glitches, laggy loading and navigation, and an overall frustrating experience for your users, who won't likely repeat it.
How can we help?
In collaboration with content, marketing, and SEO experts, we work in-depth on your website to address any technical issues that might surface, while simultaneously improving the entire site's performance, user experience, and overall functionality; to ensure your website runs every operation at the full scale.
Hire us!
Powered by agile technology,
and secure delivery; our web developers curated the whole package to all types of web challenges, at different levels of complexity that your website needs at every phase, ensuring a smooth user experience for your users and making your website
Our Work
Here's what we've been up to recently.
Estiqdam By Raha About the project: We were honored to work with Raha Share Category: Web Design Platform: Desktop