Effective SEO techniques: Top 5 practices your absolutely need to follow
Before going further to explain the most effective SEO techniques we personally apply everywhere around our website, there's two things you need to know – one's good, the other is, well, not pleasing. Starting with the good, You ABSOLUTELY can always work on fixing things for your website, even if you are laying alone in the last page on Google.
The bad thing: If you didn't, you will probably stay there for good, and the worst of all, your beloved customers won't notice, let alone trust you.. For good as well.
There's a famous -a little creepy- saying that says: "the best place to hide a body is on the second page of google results".
Aside of this uninviting nature of this statement, it actually has a weight of truth in it.
75% of google users, according to HubSpot, don't really go further than the first results page. If they don't find their answer in the first page, they might proceed to change the keyword completely.
If you want to be the first thing your prospect audience sees or thinks of when they search for you, or what's relevant to you; then, you need to appear, or be, nowhere but on the top.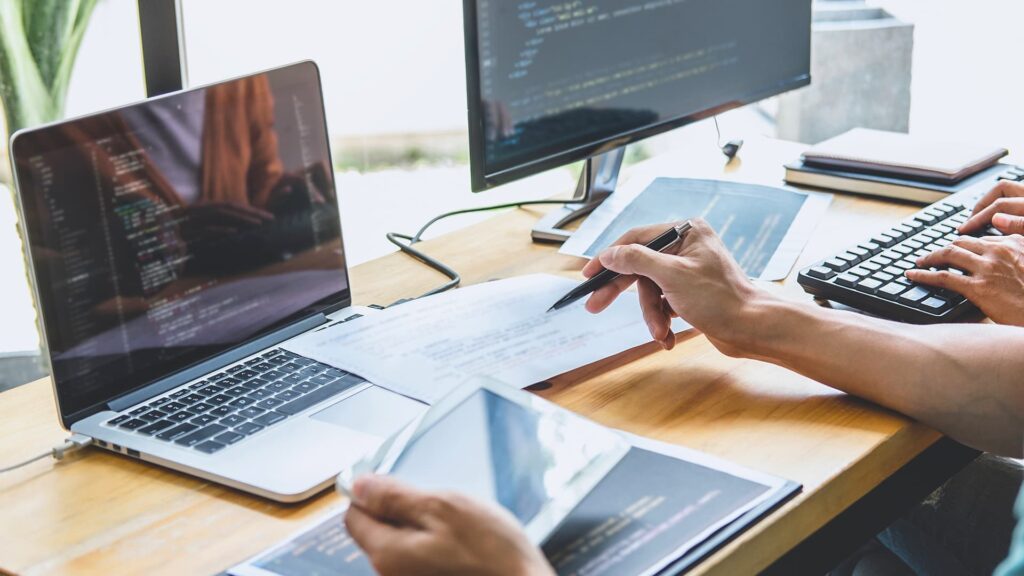 How?
Employing effective SEO techniques, obviously.
This operation (or challenge, we might call 'em) includes setting up your website both internally and externally; in order for it to perform well according to Google's rapid-changing algorithms.
When Google gears see that you are indeed a quality and valuable resource and destination for their users, they award you with the golden cookie: boosting your ranking to be on the top first, most relevant, and of course, the most visited results.
There are millions (like literally millions) of practices that can boost your presence on SERPs. However, how'd you benefited from a million on the tree if you don't use the 3 or 4 on hand?
in this simple guide, we will discuss the most effective SEO techniques we like to consider our starter pack for our own and our clients'
Websites.
Got your notepad?
Super!
Let's have a goo.
1. Match your content with your users' intent
You will understand at the end why we mentioned this one as our number one most effective SEO techniques.
The User Intent, or what's also called the Search Intent, is simply the intention or the purpose the users initially had in their minds when they were searching something.
You can see it as the way they communicated what they want in words and sentences to google.
These groups of words and letters are called keywords, which are the representatives of the original search intent.
There are 4 types of search intents: informational, navigational, transactional, and finally, commercial.
Let's take Jack for example. Well, Jack is an amateur filmmaker who is still testing around things.
To improve his editing, he's looking for a free video editing iphone app to help him get his first creative pieces done well, while keeping his wallet warm.
The first title promises him with a full list with the free iphone stuff he's looking for. Okay, so far so nice.
However, after checking here and there, Jack figures out that none of these apps are actually and truthfully free. Rather, they come with these tricky hidden fees. Or maybe not for his demanding iphone software type.
See, This type of content didn't align with jack's original search intent.
So after leaving feeling clickbaited, and probably having no intention to repeat any visits soon, he keeps on the search.
The other results are from competitors, and luckily this competitor's content gives what he exactly needs, so he eventually spends longer time reading, engaging, and definitely appreciating.
When jack, and other similar jacks, endure the same experience with both of these websites; the first gets punished by google for their misalignment with the users' intents and misleading them, while the other gets the benefit of their competitor's punishment, while being rewarded with appearing higher on results pages.
You always -as we can guess- want to cut down the distances between you and your customers; that's why their intents need to be your top priority.
Why?
Because google themselves put their user intent as their #1 priority, and even make it their one of their quality measure. they tolerate no action ignoring their users' satisfaction, and neither should you. Right?
2. Create original title tags and meta descriptions
We can not emphasize this enough.
Not only in title tags and meta descriptions, but in every corner across your website.
Completely avoid copying or rehearsing, or what could seem like them, your content, whether the original copy is from other websites or even from yours.
Google considers it as one of SEO crimes. And you don't want to commit any crimes around Google, trust me.
This should include:
Title tags.
Meta descriptions.
Landing page.
Blogs' headlines.
Products' pages.
Images Alt Text.
Categories' pages.
The bottom line here is that if you are ever going to own a page on your website, it should definitely include authentic content, not quoted, copied, or rehearsed ones from your, or others', sites.
If you can't help it, at least try to combine together pages that have similar content in one page, or you can use a Canonical Tag; which can tell SE that this URL is a master copy of a certain page on your site.
3. Optimize Title Tags and Meta Descriptions
Let's start with the Title Tag.
Could you see this long headline in this page you are reading in now on rosella, which you probably clicked to enter here? Yes, there it is. A Title Tag.
Title Tags are the main headlines that appear on search engines as results, and lead to your precious content you have in there.
Google advises you to add unique, high quality titles tags on your site pages that are uniquely created by you.
How?
Simple..
Use the keywords upfront
Because search engines focus more on titles' content.
Now you can probably guess why we gave our article the title you see now– yes, right, we wanted to rank and compete on the major keyword "effective SEO techniques", and most importantly, we really like sharing knowledge. seriously.
Google and his fellow search engines typically pay attention to the first 50-60 characters from titles. If your titles are shorter than that, they will appear as they are.
But hold on, If you bring the keywords upfront in the titles will make them look robotic or unnatural, then absolutely don't.
Just make sure you bring it as soon as possible. And of course, remember to align this keyword to the search intent we just explained.
Use one keyword, ONLY ONE
No matter how much the temptations -that we all have- to hit two birds with one stone, Stick to one, and only one, keyword.
Google always demands not to use more than one keyword in titles tags, let alone ones that are both separately highly competitive. They eventually called this behaviour Keywords Stuffing.
Our guess is that you don't want to waste your time and effort creating a unique content for your website, just for it to be punished or taken down (literally) on google, or not getting the exposure it deserves.
Make it exciting and compelling
Speaking of stuffing, make sure the title is descriptive, yet short. You have an entire web page to write any amount you like.
The title should be exciting enough for users that they deliberately click to know more. When that happens frequently, google rewards you by boosting your site to the highest results.
Now to the Meta Descriptions.
If SE brought you here, then you might have seen a line or two below our title tag that you clicked on; telling you that here we explain our most effective SEO techniques and so.
And because this is what you are most likely looking for, then you visited us —Welcome home, a coffee?
Meta Descriptions are the brief summary of your target webpage content that appears under the title tag, and normally gives users a quick hint on what's inside.
However, and while we mention this as one of our effective SEO techniques that are mainly focused on improving rankings on SERP, Meta descriptions DO NOT affect the ranking much. Yet, they definitely influence the traffic and click-through rates on your website– which.. Well, who would hate that?
The best thing is, it's super easy. Users on SE can't really see beyond 155-160 characters at max of meta descriptions. So you will just need to drag your keyword there, and make a simple, yet captivating description to praise your content.
4. Optimize your website loading speed
You know when a giant like Google emphasizes on something, that it's a great deal. Don't you?
So here's this deal: we can't speak about effective SEO techniques without stressing on improving website loading speed, especially for mobile devices. Or else, none of these SEO techniques will do anything effective.
You can play around the following practices to fix the loading speed of your site:
Compress images
It's a crucial practice, and we will get to it more later.
Images take the biggest space of your website, thus, they have a significant influence on your website speed.
Use image-resizing software and applications to compress your images before uploading them to your website, and thank us later.
Use a light theme
If you do, or willing to, install a ready-to-use web design template, then make sure it has a convenient size.
If it's too big, or is reviewed to be slow. Then maybe it's time to have another shopping tour.
If you want to spare yourself from such a hassle, our team of hands-on web designers and developers have been building scalable websites from the ground up for clients with a similar challenge for too long. — contact us
Use Content Delivery Networks
CDNs can help you show images on your website through serving them on close-by servers to your visitors that have copies from the required content.
5. Optimize Images
It might not be news for you, but google can't see, yet.
Therefore, you have to treat him as a blind, and a robot. Meaning that you should optimize images for SE, so that they will appear higher.
Though it might seem too much, it's, in fact, pretty simple. All what you have to do is 2 basic things:
Give your images a descriptive filename
Make sure you name your images with descriptive names that are relevant and searchable (with user intent in mind as well).
Let's say you have a cute image of a panda eating a carrot.
Don't name it arbitrarily, like image11 for example.
rather, give it a meaningful name. like.. like a panda eating a carrot I guess.
Add an Alternative Text to your images
Google admitted that they use Alternative texts or Alt Texts to better-rank images.
It might not take you seconds, but it will keep your images there maybe for good.
In the end, and as we said earlier, there are millions of effective SEO techniques and tactics all over the internet, but what matters isn't the number you know of them. But those 4 or 5 you start with and stick to, and rise up from there.
Still confused?
We can help!
Contact us